Other highlights
Contact

Schleswig-Holstein - Other areas of interest
Top of page
Regions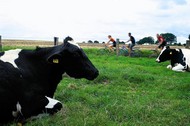 Schleswig-Holstein is divided into five regions: the North Sea coast, the Baltic coast, the interior, Holstein's Switzerland and the Duchy of Lauenburg. A tour of the state reveals a diverse landscape of islands, coastal mudflats and lush countryside between the two seas. Its enchanting beaches and dunes, quiet fishing ports, broad tracts of meadowland and magnificent manor houses make Schleswig-Holstein a rich and varied holiday destination.
A seemingly endless chain of little bays, sandy cliffs, deep fjords and secluded beaches stretches along Schleswig-Holstein's Baltic coast from the Danish border to south of Lübeck. The Baltic island of Fehmarn, Schleswig-Holstein's grain store, lies between Kiel Firth and Lübeck Bay. A string of seaside resorts extends south along the Baltic coast from Glücksburg, the cradle of European royalty with its moated castle, down to Travemünde in the south-east. Holstein's Switzerland, a picturesque nature reserve, is located between Kiel Bay and Lübeck Bay.
The North Sea coast forms Schleswig-Holstein's western border. The region is characterised by wind and waves, the ebb and flow of the tides, coastal mudflats, boat trips, water sports and holidays. Walking on the mudflats is an unforgettable experience. The typical North Sea coastal landscape consists of verdant foreshores, white sands, ever-changing scenery and sections of coast lined with dikes behind expanses of the region's fascinating coastal wetlands dotted with Hallig islands. There are tranquil villages and pretty towns to stroll around and spend time in.
The North Friesian islands are the most north-westerly holiday destination in Germany, consisting of the three sunny islands of Amrum (with the widest sandy beach in Europe), Föhr (with a particularly mild climate due to the Gulf Stream) and Sylt (Germany's largest island), plus the unique, tiny Hallig islands as well as Pellworm and Nordstrand islands.
Holstein's Switzerland is Schleswig-Holstein's largest nature reserve. It borders on the Hanseatic town of Lübeck to the south and the regional capital of Kiel to the north. Set in undulating hills and extensive forests, there are many idyllic holiday resorts around the 200 or so lakes of Holstein's Switzerland.
Top of page
Map of Germany
Map showing all of Germany's TOP travel destinations...
Click here!
Highlights in brief
Kiel
State capital, harbour, navy monument, Schilksee district
Glücksburg
Moated castle, rosarium
Schleswig
Palace, St Peter's Cathedral, Haithabu Viking museum
Rendsburg
Canal, elevated bridge with transporter
Oldenburg
Stronghold of the Wagrians
Plön
Castle
Mölln
Associated with the prankster Till Eulenspiegel
Büsum
North Sea spa resort, shrimp fishing, port
Lübeck
Holsten Gate, marzipan
Heligoland
Offshore island