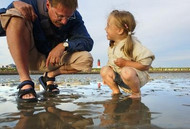 Sylt is the largest and most northerly of the North Sea islands. Geographically, it is on the same latitude as the southernmost point of Alaska. Around eight thousand years ago, it became separated from the mainland to which it is now linked via the Hindenburg causeway. The island has forty kilometres of the finest sandy beaches, with crashing waves on the western side and tranquil coastal mudflats on the eastern side, as well as unspoilt dunes, verdant dikes, majestic cliffs and flowering heathland.
The villages on Sylt are known for their striking, neatly kept thatched Frisian cottages and romantic farmer's gardens. Thatched roofs not only look pretty, they also act as a great air-conditioning system. Westerland is the island's lively centre. As well as fantastic water sports facilities, the island also has a network of walks and cycle trails which are great for exploring the beautiful countryside.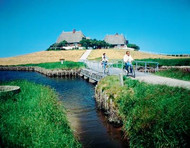 In the heart of the Wattenmeer National Park, situated in the North Sea but enjoying a mild climate created by the Gulf Stream, lies the second-largest German North Sea island, Föhr (82 km²). On Föhr you'll find a charming blend of Frisian hospitality, cosmopolitan attitude, tradition and modern conveniences. More than half of the island is marshland. The rest is mainly agricultural, with plenty of cows, horses and sheep. This is a mecca for cyclists and birdwatchers.
With Europe's widest sandy beach, Amrum is known for its open countryside and carefree living. In the west, the North Sea wavess crash onto the "Kniepsand" beach which covers an area of more than 10 km². You won't be able to resist walking through the magnificent sand dunes, some of which are up to 32 metres high. In the middle of the island, the bright dunes give way to areas of dark forest and heathland. You'll find rest and relaxation in the Friesian villages along the edge of the mudflats. The island changes dramatically with each tide, and everywhere you go you hear the call of the birds circling in the skies above. The beautiful island of Pellworm is full of natural and unspoilt countryside, extensive marshland, meadows and fields. The island has an incredibly bio-diverse fauna. Ornithological highlights include the bird migrations in spring and autumn. On a clear night, the skies above Pellworm are a remarkable sight to behold: they are packed full of stars and the milky way looks so close you could reach out and touch it. The beams from the lighthouses dart over the top of the dikes. The harbour is also a firm favourite with visitors.