Other highlights
Contact

Schleswig-Holstein - Other areas of interest
Top of page
Nature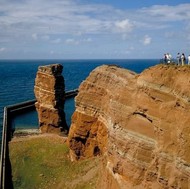 The Wattenmeer is one of the last remaining extensive natural landscapes in central Europe, stretching from Holland to Denmark. The Schleswig-Holstein Wattenmeer National Park is central Europe's largest national park. The coastal mudflats, a strip of land between the high and low water marks which is covered with seawater at high tide and accessible when the tide recedes, are one of the most fascinating natural habitats in the world. One cubic metre of their mud contains more biomass than the same amount of soil in a tropical rain forest.
What many people think of as a river, is in fact a coastal inlet, what the Scandinavians call a fjord. The Schlei is a long inlet lined with pretty little villages and cottages, widely regarded as one of the most beautiful places for sailing in north Germany.
The Kiel Canal may be the busiest shipping canal in the world, but it feels tranquil and can only be seen directly from its banks. As you approach, you see huge ships appearing from between the trees and sails gliding through fields, and finally the ferries, which take you across for nothing.
Heligoland is a red sandstone rock in the middle of the North Sea, 70 kilometres off the mainland. Visitors are attracted to it by its rare flora and fauna, fresh lobster, souvenirs and duty-free shopping.
Top of page
Map of Germany
Map showing all of Germany's TOP travel destinations...
Click here!
Highlights in brief
Kiel
State capital, harbour, navy monument, Schilksee district
Glücksburg
Moated castle, rosarium
Schleswig
Palace, St Peter's Cathedral, Haithabu Viking museum
Rendsburg
Canal, elevated bridge with transporter
Oldenburg
Stronghold of the Wagrians
Plön
Castle
Mölln
Associated with the prankster Till Eulenspiegel
Büsum
North Sea spa resort, shrimp fishing, port
Lübeck
Holsten Gate, marzipan
Heligoland
Offshore island