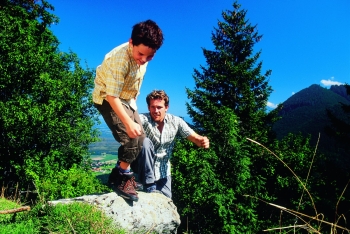 The demand for relaxation and adventure in natural surroundings is increasing. If you are looking for active or sporty holidays but are unsure about their ecological impact, you won't find a better place to visit than Germany where outdoor activities go hand in hand with respectful treatment of the environment. Recently, activities such as
hiking
,
cycling
and
Nordic walking
have become increasingly popular.
If you would like to discover German woodland from a totally new and different perspective you should take a
canopy tree walk
in a German forest. Learn more about the impressive insights of the so far unknown world of the canopy and enjoy the rare view over the mosaic of the tree tops and their habitat.
A new way to protect the natural surroundings actively is to buy stocks in German Forests, a so called "
Waldaktie
". In
Mecklenburg-Western Pomerania
you can become a patron of a small tree to be a forest shareholder. With the purchase and planting of this tree, you will make a contribution to the first
German-American Climate Forest
and consequently contribute to a better climate world wide.