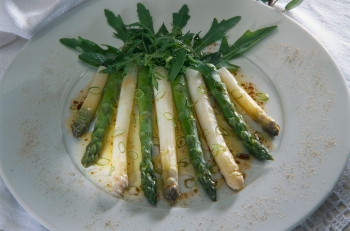 Germany can reflect upon a long tradition of horticulture. For centuries, families in the countryside have cultivated vegetables and fruits and have composed a traditional and unique
cuisine
. According to a study by the Federal Ministry of Food, Agriculture and Consumer Protection, one in five people living in Germany regularly buy organic products.
The trend of organic food has allowed Germany to rediscover its roots with naturally grown food. What began in the 1950s as a niche product for the seriously health-conscious is now an everyday ingredient for ordinary families everywhere. And even the gourmets are convinced. Today, every
region
provides a great variety of
tasty specialties
, which both locals and visitors enjoy. In every town and almost every village in Germany, from health-food stores to the many outdoor markets and even supermarkets, visitors will find organically grown produce, including some long-forgotten varieties of cereal, vegetable and fruit which are now being revived.
The majority of organic producers are members of growers' associations with names such as Bioland, Demeter and Naturland. Strict regulations and controls guarantee the quality of the products, which carry a seal of approval making them instantly recognisable to consumers. Other producers have their products certified to the standards of the European Union and these are also identified with a special mark.