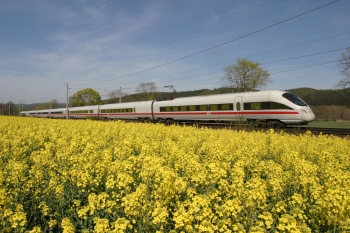 When traveling to Germany by plane, it is recommended that you choose an airline that offers the chance of offsetting your carbon footprint. Why not contribute to Atmosfair, a company that helps to compensate your in-flight carbon emissions by spending your donation on environmental projects?
Within Germany, the public transportation system is highly sophisticated. You can reach many towns and villages by
train.
There are also
local buses
running in provincial and rural areas.
The best way of getting around in Germany's large cities is to use the public transportation system which provides extensive and frequent bus, subway, train and tram services. An even more eco-friendly as well as interesting way to explore the urban environment is either on foot or by bicycle.
If you are
renting a car
you have the option of driving a hybrid or eco-fuel car. Car rental companies such as Avis and Sixt have special offers for the green traveler. Plus, if you obey the speed limit and leave the air-conditioning off you will use less fuel and save emissions as well as money.
To improve the quality of air, life and most importantly of the environment, 32 cities throughout Germany have or are about to implement
low emission zones
whereby only vehicles displaying an "Emission Badge" (Umweltplakette) are allowed to enter. Cities like Berlin, Hanover, Cologne, Dortmund and Stuttgart are already participating. Here, the Emission Badge is required for every vehicle that enters certain districts of the city center.