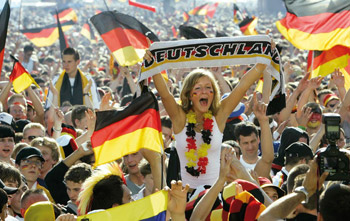 The sporting event of the year - not to be missed

In 2011 you can enjoy another summer of soccer in Germany when the FIFA Women's World Cup Germany 2011™ kicks off on June 26. Soak up the atmosphere, get swept away by the party mood and receive a friendly welcome at nine different venues where there is so much to see and do. You're sure to be dazzled by our state-of-the-art facilities at a travel destination that offers something for everyone.
Join in the fun and follow action-packed matches between the 16 best national teams in the women's game. Nine host cities are gearing up for the big event: their cutting-edge stadiums all have large capacities to cope with the many thousands of supporters who are expected to attend. Berlin's Olympiastadion hosts the opening game and the final will be held in the FIFA Women's World Cup Stadium in Frankfurt on July 17, 2011. The other host cities for this festival of soccer are Augsburg, Bochum, Dresden, Leverkusen, Mönchengladbach, Sinsheim and Wolfsburg.