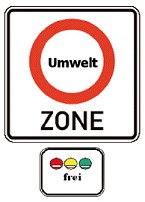 On January 1, 2008, the cities of Berlin, Cologne and Hannover introduced low emission zones in their city centers to mitigate air pollution caused by motor vehicles. In the meantime, other German cities followed the example. Low emission zones are identified by traffic signs and additional road signs. As a result of this ordinance all vehicles have to be marked with an "Emission Badge" (Umweltplakette), a sticker which should be displayed on the windshield inside the vehicle. Stickers are valid for all low emission zones in any city in Germany.
How to get an "Emission Badge" for your car?
When driving a rental car, the car rental companies usually provide vehicles that are equipped with all necessary stickers and permits meeting the latest standards required by law.
To obtain an Emission Badge for private vehicles, the only item required is a vehicle registration document (V5) and the vehicle itself. Badges are available from a wide range of suppliers including repair centers, car dealers, vehicle inspection (TÜV) stations and vehicle licensing offices. Emission Badges can also be purchased online before traveling to Germany from the
TÜV
. Prices can vary from €5 to €10 excluding shipping. Any Emission Badge issued is valid for the entire life of the vehicle and throughout Germany.