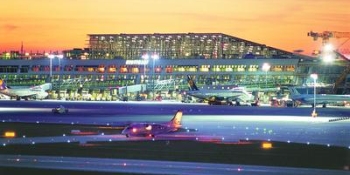 Germany is served by more than 100 international airlines. Germany's Lufthansa, together with its Star Alliance partners, offers the most frequent and extensive services. The global route network and coordinated schedules of the Star Alliance partnership link Germany with a total of 795 destinations around the world.
The most important airports are Frankfurt, Munich, Berlin/Tegel, Cologne/Bonn, Duesseldorf , Hamburg and Stuttgart - all offer direct flights to and from the US.
Frankfurt Airport
has one railway station for regional trains and one for long-distance services. The city center is approximately 20 minutes by rail from the regional station, or 30 minutes from the long-distance station. A taxi costs around €30 and takes between 20 and 30 minutes, depending on traffic.
Munich Airport
is connected to the S-Bahn suburban railway network. The city center is about a 40 minute ride away. A taxi costs around €60 and takes between 35 and 45 minutes.
Berlin Tegel Airport
is connected to the underground rail network by shuttle bus. It takes about 30 minutes to reach the city center. By taxi it is a 15 or 20 minute ride, and costs around €20.
Cologne/Bonn Airport
is a 25 minute bus ride from Bonn's central railway station. Cologne's main railway station is approx. 15 to 20 minutes by suburban or regional train. By taxi, it takes around 15 minutes from the center of Cologne or Bonn to the airport. The cost is around €30 from Bonn and approx. €40 from Cologne.
Duesseldorf International Airport
has its own underground railway station where over 350 trains, from street cars to the high-speed ICE, stop daily. With the commuter train (S-Bahn) travel time to Duesseldorf's Main Station is just 12 minutes. A taxi from the airport to the city center costs around €20 and takes approx. 15 minutes.
Hamburg-Fuhlsbüttel Airport
is linked to the underground and suburban railways by shuttle bus. The journey takes 35 to 40 minutes. From the main railway station, the airport is a 25 to 30 minute ride on the Airport Express. A taxi from the city center costs around €25 and takes between 25 and 30 minutes.
Stuttgart Airport
is connected to Stuttgart city center via numerous rail and bus links. The Commuter train (S-Bahn S2 or S3) takes you in less than 30 minutes to Stuttgart Central Train Station. A taxi costs around €28 and the ride takes between 20 and 30 minutes.