Nature & greenery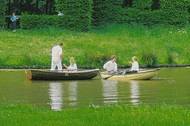 Bremen has plenty to offer in the way of green spaces and nature. Set within the rhododendron park is the "botanika" green science centre with its unique take on the world of plants. Bremen's Bürgerpark ("people's park") is Germany's best-maintained country park.
"botanika" – the green science centre in the rhododendron park
An interactive, fun and entertaining look at the world of plants. In a large (800m2) discovery centre, the interactive exhibits and multimedia presentations present interesting and fun facts in an entertaining way. 3,200 square metres of greenhouses authentically recreate various landscapes and Far Eastern culture.
Bürgerpark and Knoops Park
Bremen's Bürgerpark ("people's park") is one of Germany's best-maintained country parks. Together with the adjacent woodland, it covers an area of 202 hectares. Knoops Park is one of Bremen's loveliest parks with lots of exotic trees, open green spaces, an extensive network of paths, beautiful landscaping and a sensory garden.
Ichons Park
Together with Höpkensruh Park and Muhle's Park, which lie opposite, this country park is a typical example of an old Bremen merchant's country estate.
Top of page
Map of Germany
Map showing all of Germany's TOP travel destinations...
Click here!
Search in surrounding area