Shopping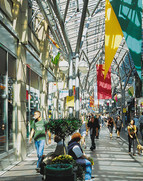 Have a good look around, take your time... Shopping in Bremen is a sheer delight because the city centre is so compact yet manages to have countless boutiques, fashion shops, department stores, restaurants and a strong sense of culture. If you enjoy a good browse, head for the malls with their acres of glass or wander around the picturesque squares. With a choice this wide, there is every chance you will pick up something really special.
Domshof-Passage
Domshof-Passage is part of a glass-roofed walkway linking Sögestrasse, the main shopping street, with Domshof, the cathedral square . The mix of shops reflects its exclusive location.
The Schnoor quarter
The galleries, arts and craft shops and souvenir shops in Bremen's oldest district, the Schnoor quarter, are also open on Sundays between 11am and 4pm (1 Apr.-31 Dec.). The Schnoor is a maze of lanes, lined with little 15th and 16th century houses huddled closely together.
Ostertor/Steintor
Alternative shopping. The Ostertor quarter has quirky, imaginative stores and plenty of bars, cafés and restaurants.
Top of page
Map of Germany
Map showing all of Germany's TOP travel destinations...
Click here!
Search in surrounding area