Events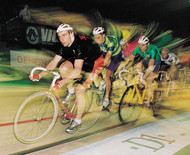 Cologne has its carnival, Munich has its beer festival. And Bremen? Bremen celebrates throughout the year!
The Bremen 6-day cycle race
Every year, this top-class cycling event attracts more than 125,000 visitors to the Six Day Races Oval in the AWD Dome. The perfect mix of sport, show and entertainment. Alongside the top-class sport in Hall 1, there is also a further 30,000 square metres of pure entertainment.
Germany's biggest samba carnival.
The north of Germany goes mad in February: with magical masked dances and wild samba beats, Germany's biggest samba carnival gets bigger every year as more and more samba and percussion bands, masked groups and wind bands from Bremen, the whole of Germany and even neighbouring countries come to join in the fun. After the carnival, the party continues in restaurants, bars and cultural venues.
Bremen's Freimarkt fair
Head first into the night, linking arms and swaying along until the early hours – for 17 days in autumn Bremen goes wild as locals and visitors celebrate the Freimarkt fair. Germany's oldest and third-largest fair attracts more than four million people to the Bürgerweide near the old quarter in the second half of October. The highlight is the large Freimarkt procession.
Top of page
Map of Germany
Map showing all of Germany's TOP travel destinations...
Click here!
Search in surrounding area