Nature & greenery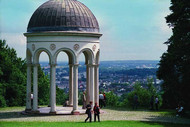 Wiesbaden is widely renowned as a "leafy city". Its numerous parks and gardens, the Taunus hills and the Rheingau region right on its doorstep attract many visitors who like to spend time in natural surroundings. Popular spots are the spa gardens, which have a concert stage, and the Warmer Damm municipal park. The Nero valley park leads down from the lower station of the historical Neroberg railway. Biebrich Palace has extensive baroque grounds.
Spa gardens
The spa gardens to the rear of the spa assembly rooms were laid out in the style of an English landscape garden and are dotted with magnolias, azaleas, rhododendrons and cypress trees. There is a fountain on an artificial island in the pond and a highly ornate, shell-shaped bandstand. The remains of the columns from the old spa assembly rooms and a bust of Dostoyevsky can be seen in Nice Square.
Biebrich Palace Park
Biebrich Palace Park is both a historic garden and a public park. Formerly a baroque garden, it was redesigned in the English landscape garden style by the horticultural architect Friedrich Ludwig von Sckell and still has great artistic merit today. It is now used as a recreation area as well as a pleasant place for an outing.
Neroberg hill
Virtually the whole of Wiesbaden can be seen from Neroberg hill, which is a good starting point for longer walks. Its beautiful lawns are ideal for a picnic and it is a wonderful place to escape from everyday life. Wiesbaden provides plenty of opportunities for leisure and recreation in natural surroundings.
Top of page
Map of Germany
Map showing all of Germany's TOP travel destinations...
Click here!
Search in surrounding area