Trade fairs/exhibitions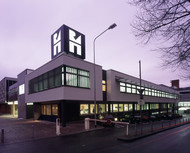 Every year the Rhein-Main-Hallen exhibition centre, which is located in Wiesbaden's city centre, hosts more than 100 trade fairs, conferences and other events, including concerts and musicals. These events cover everything from art and teddy bear exhibitions to general consumer fairs, attracting a total of around 400,000 visitors.
ReWoBau home exhibition
Every year the ReWoBau exhibition for renovation, house-building and modern living showcases the latest in design and technology for house and home. Over three days, 300 exhibitors present their goods and services in 10 exhibition halls with an area of 10,000m², attracting 18,000 visitors. There are also special presentations and a free programme of lectures.
Art and Antique
Every January Wiesbaden welcomes more than 60 exhibitors from Germany and further afield to showcase their art and antiques. Art restorers offer an insight into their work and give talks, while art dealers offer
objets d'art
and antiques of all kinds, including everything from furniture, timepieces, icons, rugs, books, prints, paintings and sculptures right through to jewellery and porcelain. All of the main historical periods are represented, as is contemporary art.
WORLD OF EVENTS
WORLD OF EVENTS is an international two-day trade show for event marketing and event services. Every January 360 exhibitors and around 7,500 visitors take part in the event, which covers service, design, facilities, agencies, freelance work, specialist work, catering, marquee-building, locations, associations, the media and professional development.
Top of page
Map of Germany
Map showing all of Germany's TOP travel destinations...
Click here!
Search in surrounding area