Events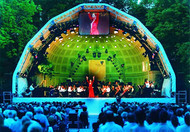 With their unique blend of traditional atmosphere and vibrancy, Wiesbaden's festivals and markets contribute much to the quality of life here. The range of different events here is extremely wide, with a festival to suit every visitor. More than a hundred take place in theatres, churches, museums and in the open air in the city's plethora of squares.
Theatrium (Wilhelmstrasse street festival)
The
Theatrium
or Wilhelmstrasse street festival is one of Germany's oldest street festivals, enticing people out onto the street every year. Dance displays, cabaret, acrobats, arts and crafts, culinary treats and finally a firework display can be seen in Wilhelmstrasse, the grand boulevard running through Wiesbaden.
"Sternschnuppenmarkt" Christmas market
Lights in the shape of the lilies on Wiesbaden's coat of arms, a magnificent, 30 metre high, decorated Christmas tree, festive aromas and Christmas music set the scene for the annual
Sternschnuppenmarkt
Christmas market. Lots of different things to buy, delicious seasonal food and plenty of entertainment put everyone in a festive mood.
Rheingau Wine Festival
For ten days, sparkling
sekt
and excellent wines from Wiesbaden and the Rheingau are on the menu outside the town hall. With a host of artists, newcomer bands and gala attractions to entertain them, visitors can taste the juice of the vine at one of the longest bars in Germany and perhaps even take a selection home with them.
Top of page
Map of Germany
Map showing all of Germany's TOP travel destinations...
Click here!
Search in surrounding area