Museums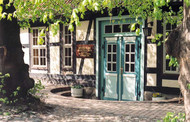 The Cultural History Museum in Holy Cross Abbey houses medieval art such as the altar of the three kings as well as arts and crafts. Rostock's Maritime Museum is located on an old merchant ship in the IGA Park. The Warnemünde local history museum traces the development of the town from early 14th century fishing village to its present incarnation as a seaside resort. Local art is displayed in numerous galleries.
Cultural History Museum
The Cultural History Museum was opened in 1859 and has been located within the medieval walls of the Holy Cross Convent since 1984. The permanent exhibitions feature medieval art, 16th to 19th century arts and crafts from the Ahrenshoop and Schwaan artists' colonies, and coins, notes and medals from the numismatic collection of Rostock's abbeys. Visitors can see imaginative figures and objects made of pewter, silver and ceramics, military decorations, Rostock cannons, a collection of clocks and mechanical instruments and everyday objects from the 17th to the 20th century. Closed on Mondays – except on public holidays – and on Good Friday, 24, 25 and 31 December and 1 January.
»
www.rostock.de
Shipbuilding and Maritime Museum
The site of the Maritime Museum on the banks of the Breitling river covers about 4,000m² and its wealth of maritime exhibits illustrate the history of shipping in the Baltic from its origins to the present day. Visitors to the historical section can find out fascinating facts about seafaring and trading in the Hanseatic age, 19th century sailing ships, steam ships and Germany's first seagoing propeller-driven steam ship. There are also models of historical ships, including a cog and the 1628 Swedish warship "Vasa". A model of Columbus' flagship "Santa Maria" can also be seen. Closed on Mondays, open every day in July and August.
»
www.schifffahrtsmuseum-rostock.m-vp.de
Warnemünde Local History Museum
A fisherman's cottage built in 1767 and now a well kept, listed site of historical interest has been home to the local history museum for more than 70 years. The interior, (about 220m²), houses exhibits illustrating the history of fishing and seafaring, maritime pilots and sea rescue services towards the end of the 19th century, as well as Warnemünde's development into a seaside resort. The living room, bedroom and kitchen give visitors an impression of what life was like in one of these houses in Warnemünde at the end of the 19th century. Closed on Mondays, April to October, closed on Mondays and Tuesday, November to March.
»
www.heimatmuseum-warnemuende.de
Wiethagen Forestry and Charcoal Making Lodge
The Forestry and Charcoal Making Lodge in Wiethagen on the outskirts of Rostock with a working tar kiln is the only remaining example of this industry in central Europe. The unmistakable smell of wood tar and the resinous fragrance of pine forests lead visitors to the tar works which was built in 1837 and declared an "industrial monument" in 1984. There they can learn how charcoal, wood tar and wood gas is produced in the two tar kilns which allow the wood to smoulder, and which type of wood artists' charcoal is made from. An exhibition explains everything about tar. In the adjoining forestry museum old equipment is displayed and the forestry methods used in the past are illustrated. One room is devoted to the crafts of tar and charcoal making and another deals with the reclamation of land used for military exercises. A number of original historical smouldering kilns and models can be seen in the model park. Open daily April to September, open Monday to Friday, October to March.
»
www.koehlerhof-wiethagen.de
Kunsthalle art gallery, Rostock
The Kunsthalle art gallery in Rostock was opened in 1969 as a museum of contemporary art. It has an astonishing collection of around 520 paintings, 6,000 drawings and prints and 200 sculptures, mostly by east German artists. The collection represents part of an artistic tradition stretching back to the 1920s. It includes some priceless drawings of the Dresden late-Expressionist school and New Objectivity pieces as well as works by O. Mangik, K. Diehn-Bitt, H. Glöckner, W. Wolff, A. Wiegand, O. Niemeyer-Holstein and many others. The gallery also focuses on modern-day art in the Baltic Sea countries. Closed on Mondays, guided tours available.
»
www.kunsthallerostock.de
Top of page
Map of Germany
Map showing all of Germany's TOP travel destinations...
Click here!
Search in surrounding area