Suggested excursions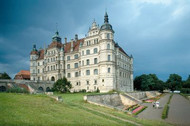 The seaside resorts and Hanseatic towns, peninsulas and islands, bays and lagoons along the Baltic coast are popular destinations for days out. The area known as Mecklenburg Switzerland, and the Mecklenburg Lakes are equally lovely. The nearby palaces and stately homes are also well worth visiting.
Bad Doberan and Heiligendammn
Bad Doberan, west of Rostock, was once the summer home of the Mecklenburg dukes. The Gothic minster of the former Cistercian monastery is worthy of a visit. Visitors taking a trip on the "Molli" narrow-gauge railway in Germany's oldest seaside resort, Heiligendamm, can admire the longest avenue of lime trees in Europe.
Güstrow
This former ducal town south of Rostock is closely associated with the works of the sculptor, graphic designer and writer Ernst Barlach. Visitors can admire his legacy in his studio at
Atelierhaus am Heidberg
and in the
Gertrudenkapelle
(Gertrude chapel). The Renaissance palace, the cathedral and the parish church are among the town's other attractions.
Ribnitz-Damgarten
The friendly town of Ribnitz-Damgarten, 30 kilometres north-east of Rostock, has become the amber capital of Germany. Its old-established museum on the subject of the "gold of the sea" is officially known as the German Amber Museum. More than 750 exhibits document the formation of the 300 or so types of amber, from early amber finds with insects preserved inside to baroque
objets d'art
.
Top of page
Map of Germany
Map showing all of Germany's TOP travel destinations...
Click here!
Search in surrounding area