Shopping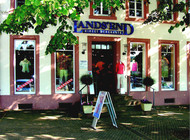 The famous Villeroy & Boch company's ceramics can be bought at various shops and factory outlets in the nearby town of Mettlach. Saarlouis has a wide range of boutiques and department stores.
Mettlach
Ceramics take centre stage in Mettlach. The tranquil old quarter has many shops selling products by the old-established Villeroy & Boch company, whose headquarters are in the town. Germany's only Land's End outlet store is also in Mettlach. You can relax afterwards with a refreshing glass of Mettlach Abbey beer.
Saarlouis
Saarlouis, the "town of the Sun King", is great for shopping and browsing. It offers plenty of choice - elegant department stores in the town centre, well-stocked specialist shops, chic boutiques, a modern shopping arcade and a relaxed pedestrian area.
Top of page
Map of Germany
Map showing all of Germany's TOP travel destinations...
Click here!
Search in surrounding area