Suggested excursions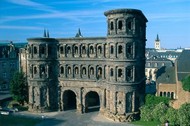 Forests and hills, lakes and rivers, lively towns and charming villages. Perl is well placed for a range of excursions. You can stroll round the old quarter in Saarlouis or Trier, or take a river cruise around the Saar Bow. A walk through the vineyards - rounded off with a wine tasting - is also a must.
Saarlouis
The small town of Saarlouis has Louis XIV to thank for its star-shaped fortifications, some of which are still preserved. They were designed by Vauban, the most eminent military architect of his day. There are various restaurants in the restored vaults of the casemates, which the Prussians added half a century later. Saarlouis is a very attractive town with historical sites, a quaint old quarter and numerous bistros and pavement cafés.
Saar Bow river cruise
Take a cruise around the Saar Bow or a day trip on the river to Saarburg. The deck of a pleasure boat opens up a whole new series of perspectives.
Trier
A visit to Trier, Germany's oldest town, is an experience not to be missed. People from all over the world are fascinated by the Roman Porta Nigra and the amphitheatre, the Romanesque cathedral, the imperial thermal baths and the historical old quarter. The town's history began around 16 BC when the Romans called it
Augusta Treverorum
. Roman emperors, bishops, electors and prominent citizens all left their mark on Trier, as can be seen in its unique architectural legacy and wealth of historical art treasures.
Top of page
Map of Germany
Map showing all of Germany's TOP travel destinations...
Click here!
Search in surrounding area