Museums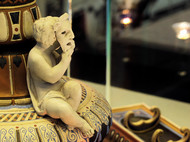 The Old Abbey in Mettlach an der Saar was acquired by Jean-François Boch in 1809. Mettlach's favourable location on the river Saar and the region's plentiful supplies of wood and coal - required, in those days, for ceramics manufacture - transformed the town into an industrial centre. The Keravision exhibition and the Museum of Ceramics next door in the Old Abbey bring the history of the Villeroy & Boch company to life.
Keravision exhibition in Mettlach
The Keravision exhibition in the Benedictine abbey is an impressive presentation about the ceramics and history of the Villeroy & Boch company, Europe's leading manufacturer of high-quality ceramic products for interiors and home living. Selected exhibits illustrate the company's various divisions and evoke different historical epochs. There are scenes from the baroque and rococo eras, the
Gründerzeit
and the days of industrialisation, the influential art nouveau, art deco and
belle époque
periods in the early 20th century, the war years and the post-war years, the 1950s, right up to the moon landing.
Ceramics Museum in Mettlach
The Ceramics Museum (in the same building as Keravision) presents ceramic treasures from the last 300 years. Its fascinating displays on a variety of themes illustrate Europe's industrial history from the late baroque period to the present day and also the development of everyday culture.
Top of page
Map of Germany
Map showing all of Germany's TOP travel destinations...
Click here!
Search in surrounding area