Food & drink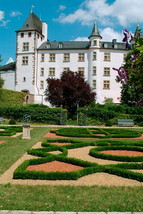 The people of the Saarland have a French-style attitude to food. Eating is considered one of life's pleasures and mealtimes are an indulgence for all the senses. The choice of where to eat is huge. The Saarland has cosy inns, tasting rooms, farm shops and gourmet restaurants serving everything from regional specialities to haute cuisine.
Perl Castle
Haute cuisine is served at this white fairytale castle - impeccable dishes, meticulously prepared.
Victor's Residenz Hotel, Berg Castle
This tastefully renovated moated castle has a modern ambience. The Bacchus restaurant serves delicious international specialities and mediterranean cuisine. The Scheune restaurant is more rustic in style and serves regional wines, tasty main meals and snacks.
Top of page
Map of Germany
Map showing all of Germany's TOP travel destinations...
Click here!
Search in surrounding area