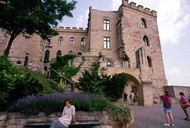 This cultural monument is famous as a symbol of German democracy. Around 30,000 people congregated here to demonstrate for increased freedom and for the unification of Germany.
Monument to Germany democracy
The "Hambach Festival" marked the birth of democracy in Germany. At a rally in 1832, around 30,000 people demonstrated here for a free and unified Germany. Build in the 11th century and destroyed several times over the course of its history, Hambach Castle became a focal point for the population to air their grievances. A fascinating exhibition documents how events unfolded.