Neustadt an der Weinstrasse - Other areas of interest
Top of page
Museums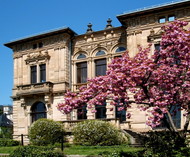 The town's history is brought to life at the Municipal Museum in the beautiful surroundings of Villa Böhm. The Railway Museum contains various decommissioned engines and rolling stock, and you can also go on a trip on a real steam train, the "Kuckucksbähnel", which is the museum's most popular train.
Municipal Museum at Villa Böhm
The Neustadt Municipal Museum is housed in the stately surroundings of Villa Böhm. The main focus of the collection is the town's 800-year history which you can learn about from many documents and exhibits including those on the founding of the town as well as the Hambach Festival and Neustadt's most famous sons and daughters.
Railway Museum
Appropriately enough, the Railway Museum is located in an old Palatinate Railway engine shed. The exhibits include locomotives and rolling stock from the former south German regional railways and German National Railway, as well as steam engines. You can even go on a trip on the "Kuckucksbähnel", a vintage train hauled by a steam locomotive.
Top of page
Map of Germany
Map showing all of Germany's TOP travel destinations...
Click here!
Search in surrounding area