Neustadt an der Weinstrasse - Other areas of interest
Top of page
Nature & greenery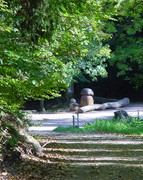 Neustadt's great location at the edge of the Palatinate Forest nature reserve means there are plenty of opportunities for lovely day trips into the surrounding countryside. Whether you enjoy walking, climbing, cycling or Nordic walking, this area set in the extensive forests and vineyards of the Rhineland Plain is a perfect base for discovering the natural beauty of the Palatinate.
The Haardt/Meisental forest and nature trail
The Haardt/Meisental forest and nature trail starts in Meisental car park. Nature lovers will find lots of notice boards providing information on, for example, the flora of the Palatinate Forest and Haardt region, the geology of the region's red sandstone hills, the formation of the forest floor and the ecosystem of the forest. You can also enjoy a hydrotherapy "arm bath" along the way.
Seven Springs Walking Trail
The Seven Springs Walking Trail starts at the end of the forest road at the Conrad Freytag viewpoint, near the Freytag family mausoleum. Walkers will come across seven springs along the trail - the Kaltenbrunner, Finstertal and Hirschtal Valley springs, and the Sternberg Hill, Kühungerquelle, Michelsquelle and Triftbrunnen springs. This part of the Palatinate Kneipp walking trail is known for its stunning views across the Palatinate Forest.
Kaltenbrunn Valley
Nordic walking enthusiasts will be in their element in the Kaltenbrunn Valley which has three scenic trails of varying levels of difficulty. This idyllic, densely-wooded valley forms the gateway to the Palatinate Forest nature reserve. It is somewhere you can get away from it all whilst enjoying a whole host of recreational activities.
Top of page
Map of Germany
Map showing all of Germany's TOP travel destinations...
Click here!
Search in surrounding area