Neustadt an der Weinstrasse - Other areas of interest
Top of page
Art & culture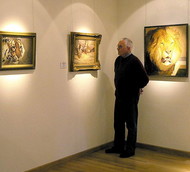 The Palatinate region has a great deal to offer lovers of culture. In almost every little wine village you will come across studios and craft workshops run by creative artists and artisans, where you can buy lovely pieces of artwork and handicrafts. There is a rich cultural scene in Neustadt itself, which includes the Summer of Culture, the Otto Dill Museum and drama productions on the open-air stage in Villa Böhm Park.
Otto Dill Museum
The Otto Dill Museum exhibits paintings by the important Palatinate painter, Otto Dill, who was born in the town in 1884. His most famous works are expressionist paintings of animals and impressionist landscapes.
Open-air stage in Villa Böhm Park
The summer productions by the Neustadt Theatre Group performed in the extensive grounds of Villa Böhm have long been an established part of the cultural life of Neustadt thanks to their diverse repertoire. The group performs at various venues during the winter months.
Top of page
Map of Germany
Map showing all of Germany's TOP travel destinations...
Click here!
Search in surrounding area