Neustadt an der Weinstrasse - Other areas of interest
Top of page
Suggested excursions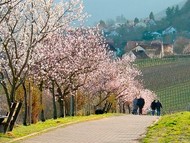 There are a whole range of interesting places you can visit in the Palatinate Forest. The 85km-long German Wine Route runs through Neustadt and has much to offer those looking for sporting and recreational activities. The route is not only extraordinarily scenic but also passes through one of Germany's most attractive regions noted for its mild climate. The biggest and the best are also present in Bad Dürkheim, which has the world's largest wine cask and hosts the largest wine festival in the world, attracting large numbers of visitors every year. If you're more of a castle lover, you can climb the hill from Neustadt up to Wolfsburg Castle.
German Wine Route
The German Wine Route was the country's first scenic route, and is one of its most famous. The 85km-long route passes through Germany's second largest wine-producing area, where people really live life to the full. For walkers and cyclists, and those looking for other sporting and recreational activities, a trip along this route is a real journey of discovery. If you're a gourmet or a wine lover, an art lover or simply have a zest for life you will soon fall in love with the German Wine Route.
Bad Dürkheim
The spa and wine town of Bad Dürkheim lies 22km outside Neustadt and is where visitors can step inside the world's largest wine cask and marvel at its 1.7 million litre capacity. Other top attractions include the ruins of Limburg abbey, the Philippshalle spa, which is a listed building, and the Gothic palace church which dates back to 1335. The Wurstmarkt fountain is named after the largest wine festival in the world, the "Wurstmarkt", which is a huge annual celebration in Bad Dürkheim.
Wolfsburg Castle
Today all that remains of Wolfsburg Castle, which was built in the 13th century and then almost completely destroyed during the Thirty Years War, are the main castle building and a couple of ring walls. A walk along the "sunny trail" which runs from Neustadt up towards the ruins is particularly lovely as you can enjoy views over the town and Speyerbach valley. If you need to cool down you can buy refreshing drinks at the castle tavern.
Top of page
Map of Germany
Map showing all of Germany's TOP travel destinations...
Click here!
Search in surrounding area