Places of interest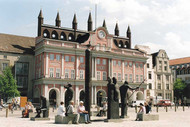 Rostock's two most important churches are located in its centre - St. Mary's has an astronomical clock dating from 1472 and from the tower of St. Peter's there is a good view of the old quarter and the town harbour. The historic town hall is on Neuer Markt square. The main university building is in the middle of the pedestrianised area.
Brick Gothic architecture in the historical old town
Gothic, Renaissance and baroque gabled houses are impressive reminders of the wealth enjoyed by Rostock's merchants in the Middle Ages, as are the mighty churches. The astronomical clock draws visitors into the Gothic basilica. Just a stone's throw away is the town hall with its baroque frontage.
Historical town hall
In the Middle Ages the town hall also doubled as a merchants' hall where traders would come to sell their wares. The baroque banqueting hall on the upper floor is used for concerts. The town hall has been the seat of the town council for almost 800 years.
Seaside resort of Warnemünde
A 100-metre wide sandy beach with a promenade, a lighthouse, fish market, picturesque little fishermen's cottages, traditional fish restaurants, fishing boats and sailing boats on the Alter Strom waterway create an authentic maritime atmosphere.
Top of page
Map of Germany
Map showing all of Germany's TOP travel destinations...
Click here!
Search in surrounding area