Events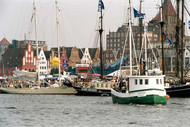 The event highlights in Rostock include music festivals such as the Baltic jazz festival, sailing sport events such as Warnemünde Week and various fairs and Christmas markets.
Hanse Sail Rostock
Every year in August, around 200 tall ships and more than a million visitors come together for Mecklenburg-Western Pomerania's biggest maritime event. It is a huge public festival with plenty of interesting cultural events and entertainment. Many of the visitors come to see the impressive tall ships, lovingly preserved sailing ships, museum ships and classic cars. Some of the ships offer sailing trips for visitors, too.
Boat trips
Harbour tours, sea cruises, fishing trips and boat charters all offer the possibility of discovering Rostock from the water. The River Warnow flows through the centre of the town and links Rostock with the Baltic Sea.
International Baltic Jazz Festival
The international Baltic Jazz Festival in Rostock has established a worldwide reputation and now attracts a wide cross-section of visitors to the town, not just hard core jazz lovers. The festival is a showcase for the best music from a wide variety of jazz genres, and features artists from Germany and abroad.
Top of page
Map of Germany
Map showing all of Germany's TOP travel destinations...
Click here!
Search in surrounding area