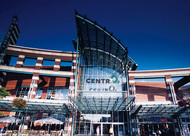 Situated in Oberhausen's "New Centre" and known for its extraordinary size and selection, the CentrO is Europe's largest shopping complex. With the nearby theme park, it is also a popular tourist attraction.
Shopping and relaxing in the "New Centre""
On a square kilometre of ground on the site of a disused steel factory, a spectacular project was born - the CentrO in Oberhausen is the largest shopping and leisure complex in Europe. With 200 shops and a wide range of cafés and restaurants surrounded by steel, marble and palm trees, it attracts more than 20 million visitors every year.