Places of interest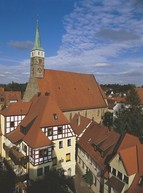 The town of Herzogenaurach is in the heart of Middle Franconia. Its old quarter has many places of interest, like the fortified towers which used to form part of the town's ramparts, the baroque castle and the magnificent parish church of St. Magdalena. Typical of this charming Franconian town are its well-preserved half-timbered buildings.
Castle
The original castle, built in the thirteenth century, was a fortified complex with a keep and a moat. It was destroyed in the Thirty Years' War, leading Bishop Lothar Franz von Schönborn to commission the new, baroque castle in 1720. Today the building houses administrative offices.
St. Magdalena
The town's parish church of St. Maria Magdalena was built on high ground to keep it safe from flooding. Until the late fifteenth century, it lay outside the town walls. Much later, excavations uncovered the foundations of an earlier, Romanesque building on the same site. By 1400, construction of the High Gothic hall had been completed; the much narrower chancel harks back to the early thirteenth century. The wooden barrel vaulting of the nave is one of the most magnificent in all Franconia.
Half-timbered buildings in the old town
In the charming, neat little old quarter of Herzogenaurach, visitors can find many well-preserved timber-framed houses. The oldest residential building in the town is the
Bürgerhaus
, a town house from 1447 which has been faithfully restored and can be visited as part of a guided tour.
Top of page
Map of Germany
Map showing all of Germany's TOP travel destinations...
Click here!
Search in surrounding area