Events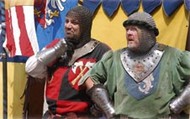 In Herzogenaurach, people celebrate every possible occasion in style. All year round, the town is busy with festivals, celebrations and events for people of all ages. The three-day Old Town Festival turns the whole town topsy-turvy with excitement. The Medieval Spectacle takes participants on a fascinating journey into the past. For music-lovers, nothing beats the "Klassik am See" classical music festival.
Old Town Festival
The three-day Old Town Festival has been taking place for over thirty years. The varied festival programme offers something for people of all ages: children's theatre, a youth band, open-air concerts ranging from folk to punk, displays by local associations, Sunday opening in local shops and of course all sorts of delicious dishes to taste.
Medieval Spectacle
Every summer at the Medieval Spectacle, visitors are captivated by their experience of life in days gone by. The festival programme spans two days, with music, entertainment, dance, theatre and other performances plus donkey rides for children as well as archery and knife-throwing. At the historical craft centre you can watch craftsmen at work making brooms, turning wood and minting coins. Sustenance is also provided, in various tasty forms. The traditional highlight of the Medieval Spectacle is a "
Concerto furioso
under the stars", culminating in a fire-eating competition.
"Klassik am See" – classical music by the lake
"Klassik am See" is a feast for the senses on a warm summer's night, played out against the backdrop of the Dechsendorfer Weiher lake. In no time at all, this local open air concert has mushroomed into a national event, with over 3,000 people attending every year. Brilliant musicians from the Nuremberg Philharmonic Orchestra, the St. Matthäus Erlangen church choir and Herzogenaurach project choir together with excellent soloists make for an exclusive programme. A major firework display over the lake provides a captivating conclusion to the event.
Top of page
Map of Germany
Map showing all of Germany's TOP travel destinations...
Click here!
Search in surrounding area