Suggested excursions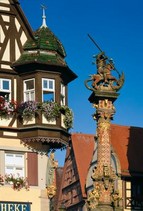 Herzogenaurach is well worth a visit, but the surrounding area is equally interesting. The town is centrally situated and therefore ideally placed for day trips in all directions. Visitors can easily reach Bamberg to the north, Rothenburg ob der Tauber in the south-west and Fürth to the south-east.
Bamberg
It is easy to see why Bamberg Old Town is a UNESCO World Cultural Heritage site. Bamberg is that rarest of places, a town whose historical centre has remained largely intact. Its cathedral, Alte Hofhaltung Palace, Böttinger House, the town hall and "Little Venice", a row of fishermen's houses, are just a few of the attractions. The historical integrity of the old quarter has been largely preserved, and over a thousand buildings there are listed.
Fürth
The town of Fürth, around 20km from Herzogenaurach, offers much to see and experience. There's art, culture, music, sport, festivals and much more besides. The Jewish Museum of Franconia and the Radio Museum are particularly worth a visit. Stroll through the romantic old town, past 2,000 well-preserved architectural monuments, to experience nearly 1,000 years at close hand. Fürth's municipal park was designed for a horticultural show, and is widely regarded as a garden of national importance.
Rothenburg ob der Tauber
A walk around this small town on the Romantic Road is like a journey into the Middle Ages. Its proud town hall, lofty towers and stout town walls, its churches and patrician houses bear witness to its past as a powerful free imperial town. History comes to life around every corner here. The townscape has hardly changed since the Middle Ages, with its rich tapestry of half-timbered buildings and solid fortifications.
Top of page
Map of Germany
Map showing all of Germany's TOP travel destinations...
Click here!
Search in surrounding area