Nature & greenery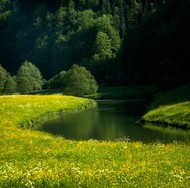 In Herzogenaurach, nature is on your doorstep. The Steigerwald and Franconian Switzerland nature reserves both lie to the north of the town, with extensive forests, charming countryside, miles of cycle routes and walking trails as well as historical towns and castles all providing plenty of opportunities for excursions.
Steigerwald nature reserve
Nature in all its glory, pretty half-timbered buildings in historical towns, idyllic villages and vast expanses of lake and woodland – all this can be found in the Steigerwald. Well-signposted cycle routes and walking trails allow visitors to explore the countryside, while the lakes offer a chance to swim or just relax. A walk through the ancient beech forests could lead to an unexpected encounter: these forests are home to wild boar.
Franconian Switzerland nature reserve
Franconian Switzerland is one of Germany's oldest and most popular holiday regions, with a landscape of small farmsteads interspersed with romantic rivers and sinuous valleys. One beautiful route though the region leads along the Castle Road, one of Germany's longest-established scenic routes. Its historical sites and delightful, picturesque landscapes with fairytale castles make the 1,000 kilometres of the Castle Road a thoroughly interesting and varied journey.
Top of page
Map of Germany
Map showing all of Germany's TOP travel destinations...
Click here!
Search in surrounding area