Food & drink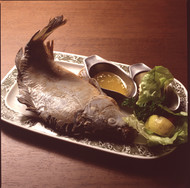 Bavaria is not only renowned for its natural beauty and historical towns and cities – Bavarian cooking is also very popular. And Herzogenaurach is no exception when it comes to food. Restaurants, bistros, bars and cafés serve the finest Bavarian delicacies to eager visitors. Nor will fans of heartier fare be disappointed by the town's more traditional menus.
Wein & Fein
This little restaurant, whose name means "Fine food and wine", is situated within one of the fortified towers in Herzogenaurach's old quarter. It has a charmingly mediterranean flair, with bright wood and warm colours. The choice cuisine also has a mediterranean, imaginative feel. But regional dishes are also on the menu. To round off the excellent food on offer, why not sample the finest from the Wein & Fein wine list?
HerzogsPark Hotel
The HerzogsPark Hotel offers a large selection of culinary specialities to suit all palates and seasons. At the Stüberl restaurant the head chef serves light dishes with a southern European flavour. The Mondial restaurant captivates diners with its charm, elegance and international cuisine. The Weinkeller serves the best wines from Franconia and hearty fare such as fondue and raclette. A real pleasure, especially on a cold winter's day!
Café Restaurant Lindengarten
Furnished in a southern European style, the Lindengarten exudes an atmosphere of warmth and well-being. The menus change weekly and offer a varied range of dishes. What better way to start a Sunday than by brunching on a large, tasty buffet? And in summer, what better place to relax than in the traditional beer garden?
Top of page
Map of Germany
Map showing all of Germany's TOP travel destinations...
Click here!
Search in surrounding area