Places of interest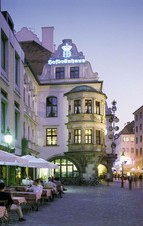 With its famous onion domes, the 15th century Gothic Church of Our Lady is Munich's unmistakable landmark. Not far away, at Marienplatz, the carillon plays three times a day. And just a stone's throw from here is probably the most famous tavern in the world, the Hofbräuhaus beer hall. Other sightseeing highlights include the Olympic centre where the Olympic Games were held in 1972.
Gothic Church of Our Lady
With its onion domes, which are clearly visible from afar, the Gothic Church of Our Lady is an unmistakable Munich landmark. The building has two high towers and offers a remarkable panoramic view of Munich and the nearby Alps. Inside, the church is impressively simplistic in its design.
Hofbräuhaus beer hall
Munich's most popular attraction and the city's best known drinking establishment, not to mention the one most frequently celebrated in song. Every day, around 10,000 litres of beer are served in the taproom, restaurant, banqueting hall and beer garden.
Olympic Stadium
The place where a number of World and European records have been broken, this stadium sees record numbers of visitors too. It is also an outstanding example of how spectacular architectural form and function can be successfully combined. The stadium is used as a venue for sporting highlights as well as open-air festivals, playing host to the likes of the Rolling Stones, Bon Jovi and Robbie Williams.
Top of page
Map of Germany
Map showing all of Germany's TOP travel destinations...
Click here!
Search in surrounding area