Nature & greenery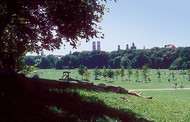 Munich has no shortage of wonderful green spaces. The extensive English Garden and the romantic grounds of Nymphenburg Palace are legendary, while the centrally located, enchanting Hofgarten palace garden is something of a well-kept secret.
English Garden
For more than 200 years now, Munich's 3.7km² English Garden has been captivating visitors with its beautiful paths, sunbathing lawns, play areas and cosy beer gardens. The most spectacular views of the city can be enjoyed from Monopterus hill, the highest point in the garden.
Nymphenburg palace and grounds
This baroque palace with its extensive grounds was built as a summer residence for the Bavarian electors. In addition to the extensive palace buildings, this impressive courtly baroque ensemble houses a number of important collections. With its numerous waterways and secret castles, the park is a great place to explore.
Hofgarten palace garden
One of the foremost royal Renaissance gardens north of the Alps, the palace garden is an oasis of calm and part of a harmonious architectural structure with wonderful views of the Theatinerkirche church. In the north and west, the edge of the garden is lined with arcaded walkways featuring a total of 125 arches.
Top of page
Map of Germany
Map showing all of Germany's TOP travel destinations...
Click here!
Search in surrounding area