Suggested excursions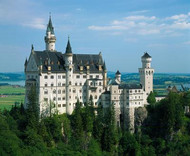 Neuschwanstein fairytale castle was not only the model for Disney's Cinderella palace, but also part of the inspiration behind Tchaikovsky's Swan Lake. Linderhof Palace offers a charming blend of French horticulture and Bavarian scenery, while Lake Starnberg is the perfect place for a swim or a stroll. From Garmisch, a rack-and-pinion railway runs to the top of the Zugspitze, Germany's highest mountain.
Neuschwanstein Castle
When building his favourite castle in the 19th century, King Ludwig II was inspired by the music and operatic works of Richard Wagner. Later, this fairytale castle became the model for the palace in the Disney cartoon "Cinderella". Today, it is considered to be one of Germany's most beautiful and famous castles.
Linderhof Palace
Built by King Ludwig II, this impressive building is surrounded by extensive gardens featuring the Venus grotto, an artificial dripstone cave and a fountain with a 30-metre-high water jet. In the summer, the fountains dance every hour on the hour between 9am and 5pm.
Lake Starnberg
Munich's nearest lake is extremely popular with city-dwellers seeking recreation. It offers a wide range of sporting activities and has boats for hire. As the home of the Buchheim Museum containing works accumulated by collector Lothar-Günter Buchheim, it is also a rewarding destination for art lovers.
Top of page
Map of Germany
Map showing all of Germany's TOP travel destinations...
Click here!
Search in surrounding area