Shopping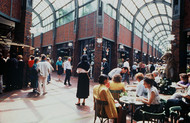 Hamburg's wealth of historic buildings, traffic-free areas and old-established stores make the city a shoppers' paradise with its own special atmosphere. The shopping streets between the colonnades and Neuer Wall street are lined with luxurious arcades, while the main shopping areas such as Mönckebergstrasse cater for even the most discerning tastes. Twelve shopping malls, Neuer Wall and Mönckebergstrasse make this the perfect place for a spot of retail therapy.
Neuer Wall
Behind, and to the right of the town hall, on Adolphsplatz, is the Hamburg stock exchange. Continue over Adolphsbrücke bridge and you come to Neuer Wall, a street lined with designer-label fashion stores. Neuer Wall is positively dripping with upmarket brands, from Armani to Joop to Jil Sander, jewellery from Bulgari, Cartier and much more.
The Hanseviertel arcade
The Hanseatic shopping arcade. Boutiques and specialist stores offer an immense selection of goods, from interior design to lingerie. Restaurants and cafés make a shopping expedition even more of a pleasure. Famous-name brands, leading chain stores - the Hanseviertel arcade is shopping paradise. Events such as the Hamburg Theatre Festival are also staged here.
Jungfernstieg
Jungfernstieg alongside the Inner Alster is an established shopping street on one side and a lakeside promenade on the other. The Hamburger Hof arcade elevates shopping to an art form. The large and small shops surpass themselves with their exclusive wares. Shoes, leather goods and travel accessories, plus the well-known Alsterhaus department store are other good reasons for coming here. You can shop to your heart's content.
Top of page
Map of Germany
Map showing all of Germany's TOP travel destinations...
Click here!
Search in surrounding area