Museums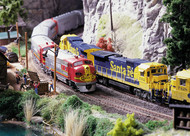 Hamburg has more than 50 museums offering an informative, fun and educational experience, from the Museum of Art and Craft to special exhibitions in the Bucerius Art Forum to the miniature railway wonderland in the warehouse district. From Ernst Barlach House to the Hamburg Dungeon, there is no limit to art in Hamburg.
International Maritime Museum
Peter Tamm began collecting maritime objects in 1934 when his mother gave him a model ship as a gift. The fruits of his passion are now on display across ten floors and more than 10,000m² of exhibition space in Hamburg's HafenCity. This fascinating collection, which chronicles 3,000 years of shipping and marine history, is complemented by frequent special exhibitions. Advance bookings are required to view the private collection of the Institute for Shipping and Maritime History.
»
Further information
"Miniature Wonderland" model railway
Within the walls of Hamburg's warehouse district, covering an area of 4,000m², this miniature world is open to visitors 365 days a year. Featuring railway lines, trains, figures, buildings and landscapes, there is a superb array of scenes and details for visitors to admire. It's easy to see why "Miniature Wonderland" is in the Guinness Book of Records for being the world's largest computer-controlled model railway. There are 15,000 metres of tracks, ensuring that 15,000 HO carriages reach their destination. 5,000 houses and bridges, 250,000 trees and 250,000 individual figures have also been used to create this gigantic setting. Almost half a million lights make the model railway look even more realistic and create an impressive atmosphere. 60 computers are needed to control the trains.
»
www.miniatur-wunderland.de
Hamburg Kunsthalle
Situated in the city centre, Hamburg Kunsthalle exhibits its works across three interconnecting buildings dating from 1869, 1919 and 1997. This lends it an exciting, labyrinthine atmosphere, with every visit throwing up new perspectives. With around 20,000m² of exhibition space, it is one of the largest art galleries in Germany. There are paintings from the Gothic period to the present, sculptures from the 19th and 20th century, drawings, prints and watercolours. Also displayed are medallions from the Renaissance to the modern day, as well as antique coins. All European art movements are represented, and there is a strong focus on 19th century Germany – stunning works owned by the Kunsthalle include paintings by Hans von Marées, Anselm Feuerbach and the Swiss artist Arnold Böcklin. There are also lectures to help visitors fully appreciate the artworks. Closed on Mondays except on public holidays. Multilingual guided tours.
»
www.hamburger-kunsthalle.de
Museum of Art and Craft
Opened in 1877, the museum is a leading centre for art, crafts and design. Inside the luminous yellow building the emphasis is on the applied arts, sculpture, graphic collections and the history of photography. The high-calibre European, Middle Eastern and Far Eastern exhibits range from Classical Antiquity to the contemporary. In the new Schumann wing, visitors can also see a collection of historical keyboard instruments, crafts and design dating back to 1950. Closed Mondays, 1 May and 24 Dec., disabled facilities, guided tours.
»
www.mkg-hamburg.de
Museum of Hamburg History
As a cultural history museum, the Museum of Hamburg History sees itself as a contemporary stage for the city's past. The museum on Holstenwall features vivid displays which bring 1,200 years of Hamburg's history to life. From crafts, civic culture, spiritual life and the arts to the economy and overseas trade, the exhibitions portray all aspects of life in an interesting and informative way. Closed on Mondays. Guided tours on request.
»
www.hamburgmuseum.de
Hamburg Dungeon
The ancient, gloomy catacombs of Hamburg's historical warehouse district are the setting for the Hamburg Dungeon, a special kind of exhibition occupying an area of 500m². Not for the faint-hearted, the Dungeon is a combination of museum and interactive chamber of horrors. Behind its walls lie terrible scenes from almost 2,000 years of Hamburg history. Actors lead the visitors into the depths of the past – starting with the Great Fire of Hamburg in 1842, to the terror of plague and cholera in 1892 and the life and death of the notorious pirate Störtebeker. A spectacular water ride based on the terrible storm floods of 1717 promises a terrifying and thrilling few minutes. Then the chamber of horrors awaits, with glowing instruments of torture, and fear, terror and horror. Open all year round.
»
www.thedungeons.com
PANOPTIKUM
The PANOPTIKUM in Hamburg, established in 1879, is an unusual museum which boasts Germany's oldest and most extensive collection of waxwork figures. More than 100 realistic wax figures from the worlds of history, culture, showbusiness and sport are displayed in appropriate costumes and settings. The interesting 1950s building is home to Goethe and Schiller, Napoleon, Cleopatra, Frederick the Great, Picasso, Uwe Seeler, Steffi Graf, Harry Potter, James Dean, Elvis Presley and the Beatles, to name but a few. Princess Diana and Michael Jackson are here too. The medical history collection is a little creepy, featuring waxwork recreations of a birth in breech presentation, a newborn, skin rashes, a collection of glass eyes and much, much more. Guided tours on request.
»
www.panoptikum.de
Burg Coffee Museum
An enticing aroma welcomes visitors as they approach the premises of the Burg Coffee Museum in Hamburg. Coffee fans can enjoy the delicious freshly-brewed coffee while learning all about the green beans. The museum's collection includes traditional items as well as individual coffee beans before and after the roasting process. With almost 3,000 exhibits in total, including 900 different coffee grinders from grandma's days and an old bag-closing machine, visitors can learn a lot about this popular beverage, its history and its accessories, from the first filters (1920), to types of tea, spices, jams, drinks, etc. Guided tours and coffee seminars available. Closed on Sundays.
»
www.kaffeemuseum-burg.de
Museum of Ethnology
Founded in 1879 and based around a small ethnographical collection, the Museum of Ethnology sees itself as a symbol of Hamburg's cosmopolitan outlook. One of the largest museums of its kind in Europe, it presents around 350,000 exhibits illustrating the history of folk art and culture around the world. A permanent exhibition entitled "A roof for all cultures" in the magnificent "boat hall" provides an insight into the museum's work with numerous rarely or previously unseen objects and photos. The vibrant museum involves its visitors on several levels. It regularly holds an international arts and crafts market where you can watch artisans from a number of countries at work and browse their creations. Closed 24, 25 and 31 December, 1 January, and on Mondays (except public holidays and arts and craft market days).
»
www.voelkerkundemuseum.com
Speicherstadt Museum
In the authentic surroundings of an over 100-year-old dockland warehouse, the Speicherstadt Museum provides an insight into the everyday life of a docker. It documents the history of maritime trade in Hamburg, and shows what happened to coffee, tea, cocoa, nuts and spices before they found their way into the shops. Exhibits such as tools, equipment and sample goods illustrate the work that went on in the docking companies and merchant houses. There is even a recreation of a female worker sorting coffee beans. Though her job is now obsolete, there's still a call for the lightermen, who transport goods by barge between the freighters and the quays. Also on show are historical photos chronicling the construction of this remarkable dockland warehouse. Closed on Mondays, guided tours available.
»
www.speicherstadtmuseum.de
HSV Museum
Hamburg, known as HSV in Germany, are one of the country's leading football clubs. A 600m² museum celebrating their history is housed within their AOL Arena, a 2006 World Cup stadium. Visitors can learn all about the club, which was founded in 1887. Football fans will love the stunning range of memorabilia and historical football-related items. There are nine exhibition spaces, each with a different theme – for example "Emotions and Legends" and the old "Rothenbaum" stadium. There's even a soccer trivia tunnel! You can see trophies, match-day kit and Franz Beckenbauer's changing room. The 1920s ice-hockey equipment on display is a reminder of how German clubs often participate in a variety of sports. Frequent stadium tours give fans a behind-the-scenes insight into a top-level football team. An experience for all the family. Open daily. Disabled access.
»
www.hsv-museum.de
BallinStadt Emigration Museum
BallinStadt Emigrant Museum opened in 2007 in Hamburg's Veddel district. The site was originally built by the HAPAG shipping company to accommodate the millions of Europeans departing for the New World. Learn all about the history of emigration, the way people travelled, and how their lives unfolded. You can even go in search of relatives in the huge research centre – with access to the world's largest genealogical database of over 600 million entries. Between 1850 and 1939, Hamburg was the last port of call for some five million people. They hoped for a better life in the "land of opportunity", fleeing political and religious persecution, or looking to escape poverty and starvation. With passenger lists detailing the destinations of over five million people, BallinStadt is a unique historical resource. Qualified staff are on hand to help you get the most from your visit. Open daily.
»
www.ballinstadt.com
Rickmer Rickmers Museum Ship
The SS Rickmer Rickmers, a 110-year-old tall ship and the floating symbol of Hamburg's Hanseatic tradition, has been open to the public since 1987. Located at the Landungsbrücken jetties, her exhibits and display panels illustrate the ship's tumultuous history and paint a picture of the beauty and the harshness of life on board. Built in 1896 in Bremerhaven, this fully-rigged steel vessel harks back to the days when sea-faring was powered by wind alone. The hull is 97 metres in length and around twelve metres wide, with a draught of six metres and a sail area of 3,500 m². She embarked on voyages all over the seven seas, transporting valuable cargo such as rice, bamboo and coal. Open daily.
»
www.rickmer-rickmers.info
Cap San Diego
Dubbed the White Swan of the South Atlantic for her elegant beauty, the Cap San Diego is a unique reminder of an almost forgotten maritime era. This floating monument has been moored in her home port of Hamburg since 1986. Found at the Überseebrücke jetty, it is the world's largest museum freighter that is still seaworthy – a fascinating, hand-on experience that brings maritime history to life. Built in 1962, the cargo freighter boasts 4,000m² of exhibition space, chronicling shipping down the ages. The vessel itself is also a sight to behold, both inside and out. Lots of equipment is on display, and virtually every corner can be explored -from the shaft tunnel in the depths of the ship to the bridge up above. There is also a focus on the thoughts and feelings of the five million emigrants who departed Europe between 1850 and 1934. For them, Hamburg was the "Gateway to the World". Open daily.
»
www.capsandiego.de
U-Boat Museum
Hamburg's Baakenhafen is the new home of the U-434, one of the world's largest non-nuclear submarines. A fascinating, informative tour of this undersea craft is not to be missed. Built in 1976 in Nizhny Novgorod, this Tango class U-Boot had a maximum operating depth of 400 metres. Until 2002, it was part of Russia's Northern Fleet and was subject to the utmost secrecy. The U-434 was an espionage submarine used in special operations. These including clandestine missions off the East Coast of the USA and long-distance patrols in the territorial waters of the Soviet Union. Its specially designed rubber coating made it virtually invisible to the sonar devices employed by Western intelligent services. At stealth speed, the submarine was propelled by four electric engines. A behind-the-scenes guided tour of the U-434 takes visitors on a journey into the world of espionage and the spartan lives led by the undersea crew. Information boards explain the submarine's complex technology in a simple, straightforward manner. Open daily.
»
www.u-434.de
Zoological and Botanical Museum
In an area covering 2,000m², the museum displays around ten million zoological specimens from almost 90,000 species. The Animal Kingdom is represented by insects, amphibians, reptiles, fish, molluscs, birds, mammals and invertebrates. There's even acoustic accompaniment in the form of whale and birdsong. Experts rate the zoological collections as some of the most important in Germany. The botanical section exhibits the various plants cultivated by humans. These include spices, fibrous plants, natural rubber, oil plants, sugar plants, dye plants, cereals and indigenous fungi. Among the highlights are an enormous strangler fig from Cameroon and the largest seed in the plant world – the coco de mer or "Seychelles nut". Special exhibitions and guided tours complement the wide range of attractions. Closed on Mondays and public holidays.
»
www.biologie.uni-hamburg.de
Hagenbeck Zoo
In 1907 Carl Hagenbeck (1844-1913) fulfilled his dream by opening a zoo just outside Hamburg. With a great mix of wildlife, parkland and culture, it makes for an ideal day out. Hagenbeck's prestigious zoological garden is one of the most important in Europe, and its panoramic views and open-air enclosures still influence modern day zoo architecture. Over 2,500 animals from 360 species have been gathered from every corner of the globe. They live in natural surroundings in spacious outdoor environments. Orang-utans, Asian elephants and giant otters from South America have all found sanctuary at Hagenbeck. You can feed giraffes or baby camels, and watch free-flying macaws and pelicans, and the huge elephant enclosure is always popular. Opened in 2007, the aquarium and reptile house is home to 13,000 exotic animals, including sharks, moray eels, Nile crocodiles, anacondas, bats, cave fish and scorpions. Spread across an astounding 7,000m², it contains 31,000 litres of fresh water and two million litres of saltwater. Open daily all year round.
»
www.hagenbeck.de
Top of page
Map of Germany
Map showing all of Germany's TOP travel destinations...
Click here!
Search in surrounding area