Permanent exhibitions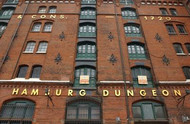 Permanent exhibitions offer interesting insights into Hamburg's history and other specific themes. There are fascinating art exhibitions in the Deichtor Halls, two renovated market halls.
Deichtor Halls
The two dilapidated former market halls were renovated in 1911 to create two of the largest and most beautiful exhibition spaces in Europe. The Deichtor Halls show contemporary international art in themed exhibitions as well as individual shows from Warhol to Lichtenstein to Haring. There are also photographic works by names such as Newton, Leibowitz and Penn.
The Hamburg Dungeon
Within the walls of the warehouse district lie more than 1,000 years of history. Delve into the past, get caught up in the Great Fire of Hamburg and witness other major events in Hamburg's history from plague and cholera to the pirate Störtebeker. A spectacular water ride based on the great storm floods of 1717 promises a terrifying few minutes.
The Panoptikum
The Panoptikum contains more than 100 realistic wax figures from the worlds of history, culture, showbusiness and sport. Goethe and Napoleon rub shoulders with the likes of James Dean, Elvis Presley, the Beatles, Michael Jackson and Princess Diana. Electronic tour guides are available for further information.
Top of page
Map of Germany
Map showing all of Germany's TOP travel destinations...
Click here!
Search in surrounding area