Food & drink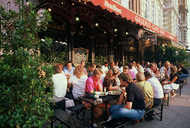 From fresh fish in a harbour restaurant to all manner of ethnic specialities: when it comes to eating and drinking, Hamburg is second to none. The "Feinschmecker", Germany's leading publication for fine dining, has awarded top marks to Hamburg's restaurants and chefs, concluding that "Hamburg has the best gastronomy of all Germany's cities." The plaudits apply to both the gourmet category and the trendier eateries.
Warsteiner Elbspeicher
The informal atmosphere of the old, carefully renovated warehouse, the stylish decor and modern touches create a distinctive atmosphere where guests immediately feel at home. The first-floor restaurant affords fabulous views of the Elbe, Hamburg's harbour, cranes, dock 11 and the Blohm & Voss shipyard.
Seven Seas
The small Seven Seas gourmet restaurant is a gem. With its simple yet sophisticated design, it provides the setting in which guests can enjoy the fine things in life. It is not just the impressive views of the Elbe, but also the exclusive atmosphere and the impeccable gourmet cuisine that make eating in this classy restaurant such a pleasure.
Piment
The small restaurant, furnished in elegant bistro style, is housed in a very attractive Art Nouveau building. The creative dishes are of exemplary quality. The style of cooking is authentic French with a Moroccan influence: the type of food that could be enjoyed in a top-class restaurant on the Mediterranean coast.
Top of page
Map of Germany
Map showing all of Germany's TOP travel destinations...
Click here!
Search in surrounding area