Conferences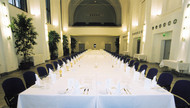 Conference organisers can choose from a wide range of conference venues and event facilities. Rooms and venues can be set up according to individual requirements with many different possible layouts. Neuss has a great variety of modern, multi-functional venues.
Stadthalle conference centre
The
Stadthalle
is the region's leading venue with a large conference hall which can accommodate up to 1,100 people. There is state-of-the-art lighting and sound equipment as well as a wide variety of other event facilities and dressing rooms. In the adjoining hotel there are a further 19 conference rooms available for seminars and workshops. The
Stadthalle's
three foyers are ideal for receptions and exhibitions.
Armoury
Located very close to the main shopping street, this former church provides a special atmosphere for all kinds of events. Depending on seating arrangements, the armoury can accommodate up to 500 people. There are two further rooms and an atrium which are available for meetings. The latest conference technology and flexible room arrangements mean that all kinds of events can be held here.
Contact:
Neuss Convention Concept
Oberstr. 7-9
41460 Neuss
Email:
info@neuss-convention-concept.de
Website:
www.neuss-convention-concept.de
Top of page
Map of Germany
Map showing all of Germany's TOP travel destinations...
Click here!
Search in surrounding area