Suggested excursions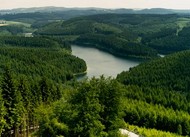 Neuss is located in one of the most interesting regions in Germany and there are a number of places of interest to visit in the surrounding area. For example, the cathedral city of Cologne is well worth a visit. Or if you're looking for an active holiday and beautiful countryside, you need look no further than the Bergisches Land region where you can take part in countless recreational activities. Winter sports enthusiasts can enjoy themselves all year round in Germany's largest indoor ski centre.
Cologne
Cologne cathedral, a UNESCO world heritage site and the city's most famous landmark, is one of the biggest attractions for tourists in the Rhineland. The old town with its colourful houses is also well worth a visit, as is Cologne Arena. A cruise along the Rhine is one of the highlights of any visit to the city.
Bergisches Land region
The Bergisches Land region and the 18,000 hectare nature reserve of the same name are part of the Rhenish-Westphalian Slate Mountains between the Rhine, Ruhr and Sieg rivers. The slate and half-timbered houses with their carved front doors and elegantly curved front gables are well worth seeing. This region is particularly popular with sports enthusiasts who are truly in their element here. For example, visitors can go windsurfing on one of the many lakes, explore the countryside on horseback and go for long hikes in the mountains.
Indoor ski centre
Germany's first and largest indoor ski centre is located only a few miles from Neuss's old town. Whether you're a novice or expert, a skier or snowboarder, you're guaranteed to have fun in this artificial winter wonderland, all year round. There are chairlifts for a relaxing ride to the top of the slope and you can try out the latest equipment from the centre's own rental centre. And at the end of the day why not enjoy some
après-ski
in one of the rustic restaurants.
Top of page
Map of Germany
Map showing all of Germany's TOP travel destinations...
Click here!
Search in surrounding area