Conferences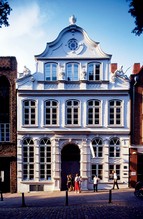 For a long time now Lübeck has been the unofficial cultural capital of northern Germany. The Music and Congress Hall alone stages a multitude of concerts and important events throughout the year, while Buddenbrooks House, which boasts permanent and temporary exhibitions, can host all kinds of events.
Music and Congress Hall in Lübeck
The Music and Congress Hall in Lübeck does justice to the town's reputation as an excellent location for conferences. The building is situated on the Trave River facing Lübeck's old quarter and combines everything that is required of a modern conference centre: the latest technology, well-equipped rooms and a comprehensive range of services.
Buddenbrooks House
Buddenbrooks House is an exceptional conference venue, adding a touch of literary flair to any event. The house where Heinrich and Thomas Mann spent a great part of their lives can accommodate up to 200 people in its function room and vaulted cellar, and its historically significant façade conceals comprehensive, state-of-the-art conference facilities.
Contact:

Musik- und Kongresshalle Lübeck
Willy-Brandt-Allee 10
23554 Lübeck
Email:
muk@muk.de
Website:
www.muk.de
Top of page
Map of Germany
Map showing all of Germany's TOP travel destinations...
Click here!
Search in surrounding area