Places of interest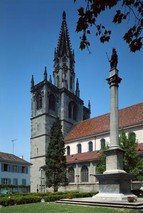 The largest town on Lake Constance is not just popular with tourists but also has much of historical interest. In 1417 the Council of Constance elected Martin V as Pope, the first and only time the election of a new Pope has taken place north of the Alps. Located on Germany's border with Switzerland, Constance is also the birthplace of Count Ferdinand von Zeppelin, the famous airship pioneer.
Constance Minster
The construction of the minster and adjoining palace in what is now the old quarter of Constance commenced in around 590 AD. The church was extended over several centuries. Raised to the status of basilica minor by the Pope in 1955, today the minster is the most impressive building in Constance. There are wonderful panoramic views over the town and the surrounding Lake Constance area from its 76 metre high steeple.
Council of Constance Building
Built originally in 1388 right on the harbour by merchants from Milan, this building was initially intended as a central store for goods which were being delivered across the Alps. In 1417, being the largest building in the town, it was the location for the first and only papal elections north of the Alps. Today it is used as a conference venue and restaurant.
Powder Tower
The powder tower was constructed at the corner of the internal town wall to store gunpowder and artillery. In the middle of the 15th century it was used for locking up Jews in order to extort protection money from them, which is why the tower is also known as the "Jews' Tower".
Top of page
Map of Germany
Map showing all of Germany's TOP travel destinations...
Click here!
Search in surrounding area