Seminar venues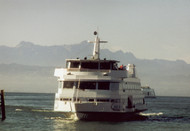 Would you like to hold a conference whilst cruising on the lake? The MS Graf Zeppelin is a special kind of conference venue where you can do just that. Or why not hold your event in the more intimate but no less interesting surroundings of the house at Hofhalde 1.
MS Graf Zeppelin
This prestigious flagship can accommodate between 500 and 700 people. It is equipped with the latest technology, allowing you to hold presentations and seminars whilst enjoying a pleasant cruise across the lake.
Hofhalde 1
The former episcopal residence and offices have an idyllic garden and can accommodate up to 60 people. Its modern facilities, contemporary amenities and antique furniture make the house an attractive conference venue.
Top of page
Map of Germany
Map showing all of Germany's TOP travel destinations...
Click here!
Search in surrounding area