Nature & greenery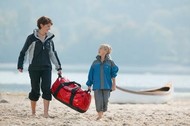 Lake Constance itself already provides stunning natural surroundings. However, the residents of Constance have made these environs even more beautiful by creating different parks right on the shores of the lake. Little Venice and the municipal gardens are the venues for various cultural events and offer breathtaking views across the lake, which are even more unforgettable at night when seen from the splendidly illuminated municipal gardens .
Lake Constance
A visit to Lake Constance, also known as the "Swabian Sea", with its three picturesque islands set against the panoramic backdrop of the Alps is a must for any visitor. You can enjoy many different kinds of recreational activities in and around the lake, such as swimming, walking, cycling or simply eating an ice cream in one of the many lakeside cafés. Every visitor will find rest and relaxation here.
Little Venice
Constance's "Little Venice" is located directly on the shores of Lake Constance and on the border with Switzerland. It is a recreation area for the locals as well as a venue for cultural and sporting events. It also contains the Sea Life Centre and the "Steine im Fluss" (stones in the river) interactive outdoor exhibition where you can learn all about the region's geology.
Municipal Gardens
The Constance municipal gardens were opened in 1879 and have always been a popular recreation area for locals and visitors alike. Their ornate flower beds, the wonderful location right on the lake and the music pavilion for open-air concerts have turned the municipal gardens into a popular tourist attraction over the years. Today the gardens are under a preservation order.
Top of page
Map of Germany
Map showing all of Germany's TOP travel destinations...
Click here!
Search in surrounding area