Shopping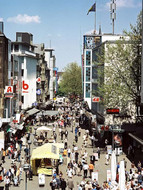 With around 800 shops and department stores on 300,000m2 of shopping space in the centre of the city, Essen is "the shopping city". With upmarket jewellers, chic fashion boutiques, large furniture stores, exclusive design studios and well-stocked department stores, there is something for everyone.
Kettwiger Strasse pedestrian precinct
Most of the centre of Essen is traffic free. Essen was the first German city to create a pedestrianised area - as long ago as the 1920s. Its many shops have something to suit every taste.
Top of page
Map of Germany
Map showing all of Germany's TOP travel destinations...
Click here!
Search in surrounding area