Art & culture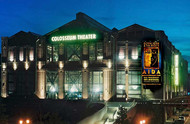 Art and culture are an extremely important part of life in Essen. Essen is older than either Berlin or Munich, a fact which is reflected in its historical sites and architectural masterpieces such as the Aalto Theatre, with its opera and ballet performances, the Colosseum Theatre, the German Poster Museum, the Philharmonic and Villa Hügel.
Villa Hügel
Villa Hügel, former home of the Krupp manufacturing dynasty, has established an international reputation as an outstanding cultural venue. The exhibitions of art history shown here are usually unique in terms of their themes and exhibits, and are always impressive.
Colosseum Theatre, Essen
Essen's Colosseum Theatre is one of the most modern musical theatres in the Ruhr area. As soon as you enter the theatre foyer, created within the colossal three-section industrial hall, you are immediately struck by its charm. There could be no more beautiful fusion of the
Ruhrgebiet's
past and present than in the Colosseum Theatre, as this new theatre, especially designed for staging musicals, is called.
Essen Philharmonic - Largest concert hall in the Ruhr area
From major symphony concerts to chamber orchestras to organ recitals and contemporary music, the Essen Philharmonic has everything music lovers in the
Ruhrgebiet
and the surrounding area could wish for.
Top of page
Map of Germany
Map showing all of Germany's TOP travel destinations...
Click here!
Search in surrounding area