Events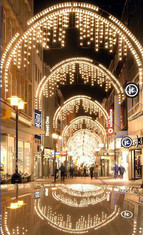 Outstanding events such as the Essen Festival of Lights and the International Christmas Market draw hundreds of thousands of visitors from far and wide each year. Even at other times of year there is plenty to see and do in Essen.
"Essen. Original" - the city festival
Various acts and bands perform on Kennedyplatz and throughout the whole city centre: rock, pop, hip hop, jazz, comedy, literature, classics and dance.
Essen Festival of Lights
Festive illuminations in Essen's city centre from the end of October to early January. Every year, a new theme is chosen and fabulous pictures of light are created using thousands of colourful bulbs and modern lighting technology.
International Christmas Market
Gingerbread, mulled wine and love apples. Hand-carved nativity scenes, artistic advent pyramids and incense burners, beeswax candles and handmade paper - a stroll through Essen's Christmas market puts you in the festive mood with its delicious aromas, tasty Christmas treats and lovely gifts. Around 250 stalls offer specialities from all over the world.
Top of page
Map of Germany
Map showing all of Germany's TOP travel destinations...
Click here!
Search in surrounding area